Jeff Shuman is a serious theater-goer. More nights than not, you'll find him headed to a movie in the Los Angeles area at one of the rep houses that still projects film. I had lunch with Jeff on St Patrick's Day and we talked about why he's so passionate about seeing classic films the way they were originally seen, why digital holds no interest for him, and the differences between movie audiences in Los Angeles and San Francisco.
RW: When did you first really get into movies?
Jeff: Going to the theater, or just watching movies?
RW: Both!
Jeff: Going to the theater was in 2011, after I quit working as a stock manager for American Apparel and I was living in San Francisco on Divisadero and Fell. One day I just walked up to the Castro and went to a matinee of White Heat and Angels with Dirty Faces.
RW: I was there! I was at that show.
Jeff: And I was not into living in San Francisco, and I felt transported back to another time, like "I'm escaping San Francisco right now." And then I just kept going every day after that, it was during their Max Steiner tribute series. So I saw the program with the Max Steiner stuff and was like, yes! But I was into movies in high school too, I guess. When Teenage Mutant Ninja Turtles came out, me and my friends went after elementary school and waited in line all day to get in first; and I was into Batman, so like those kind of movies . . . But I wasn't into pretentious cinema until high school and I got into the Criterion Collection, I really liked stuff like Brazil. And I liked Kubrick and Woody Allen . . . auteurs. I liked to explore their catalogs in the same way that I did with music at the time, it was my life. If I liked the Cure, I was going to listen to all the Cure albums. If I liked Hitchcock, I'd watch all the Hitchcock movies.
RW: Did your movie-watching routines in San Francisco change when you moved to Los Angeles? I can imagine there were more theater options . . .
Jeff: It became social to me for the first time. When I got to LA I didn't know that many people and I met a lot of friends through the movies. It was a really good balance for me, as someone who likes to be alone, to get ten minutes of hanging out with people before the movie and then two hours of no talking, no eye contact, and then another ten minutes to an hour talking after. It was perfect, and I met really awesome people. People who were very much like me, people who were very different than me, younger than me, older than me. People with the same interests as me and others with totally different interests outside of cinema. But people were fucking passionate. I met many people who went to more movies in LA than anyone I knew who went to movies in San Francisco. No comparison. It was really easy to find out about stuff, about new theaters to go to and when tickets will go on sale, what are the ins and outs of a theater and the staff, that kind of thing.
RW: You seem to be just as much into music as movies . . .
Jeff: Not true, just music from the past. Not of the past, but from my past. I replaced music with cinema pretty much all across the board.
RW: Was that a conscious decision?
Jeff: No, not at all. Music wasn't an escape. It was a reminder of my feelings and other people's feelings and thoughts. It's more reflective. When I watched movies as a kid my interest was in understanding the human condition, and as an adult I have no interest in that. I want to escape reality and have someone tell me a story. Nowadays I don't search for stuff so much. I see what's programmed. I don't pick shit on my own—I barely watch movies at home, I don't own a lot of blurays or DVDs. When I watch stuff at home, I don't remember watching any of it. I don't remember stuff when I see it at home the way I do in a theater. It doesn't impact me the same way. But then again, I can watch movies in the theater and then the next day I don't even know what that was about either. But I was transfixed by it at the time, legitimately, even if I don't remember who's in it and I don't remember what it was about. This week alone I saw a lot of movies: on Tuesday, I went to the Aero to see To Be or Not to Be on 35mm. It was my fourth time seeing To Be or Not to Be on film. It was the second feature after The Grand Budapest Hotel, which I'd never seen, but I decided fuck it, I don't want to watch that movie and it's digital, and I had gone to a double feature a couple of nights earlier. So I skipped Grand Budapest Hotel and went to a diner in Santa Monica and had a great meal and a couple drinks, and then just went straight to To Be or Not to Be and it was fucking amazing. It is. It's just a masterpiece, so that was Tuesday. And then last night was the nitrate screening of The Fallen Idol at The Hammer. And then this afternoon I'm going to see Top Hat at the Egyptian.
RW: Even though you have a job that's technically in the film industry (metadata analyst for Sony Pictures), do a lot of your coworkers watch movies?
Jeff: I have two friends at work who go to a lot of movies. But they have pretty different interests than me. One guy watches every new movie he can and is more likely to see the spin-off of a horror sequel's seventh movie in the theater than go see an old movie. Another guy has a taste in-between, he's interested in new stuff and classics but less than either of us individually.
RW: It does seem like a completely different crowd, there's folks who just see new movies or just go to old ones. I think a lot of people who watch old movies will occasionally see a new movie, but it rarely works the other way.
Jeff: One of the big differences here is there's a really vibrant horror scene which is one of the only times you'll see a lot of women in the audience. Generally speaking, San Francisco is more diverse in its movie audience by gender. You'll have different sexual orientations and different genders in San Francisco but not so much here. Here you can get more racial diversity in LA but there's way less women going to movies, except for horror.
RW: Is it typically just new horror movies or . . .
Jeff: All horror. That's a really palpable difference. At a lot of the theaters it can sometimes be an overly masculine environment with very macho movies or movies that just straight up don't appeal to women. There was a program at the New Beverly of "Macho Westerns", not a lot of ladies showed up to the macho westerns. Then a Bogdanovich movie will play and it's split down the middle again.
RW: Staff-wise how's the mix of people here?
Jeff: It's pretty mixed . . . There are women managers, projectionists, programmers, etc. but the audience is still mostly male.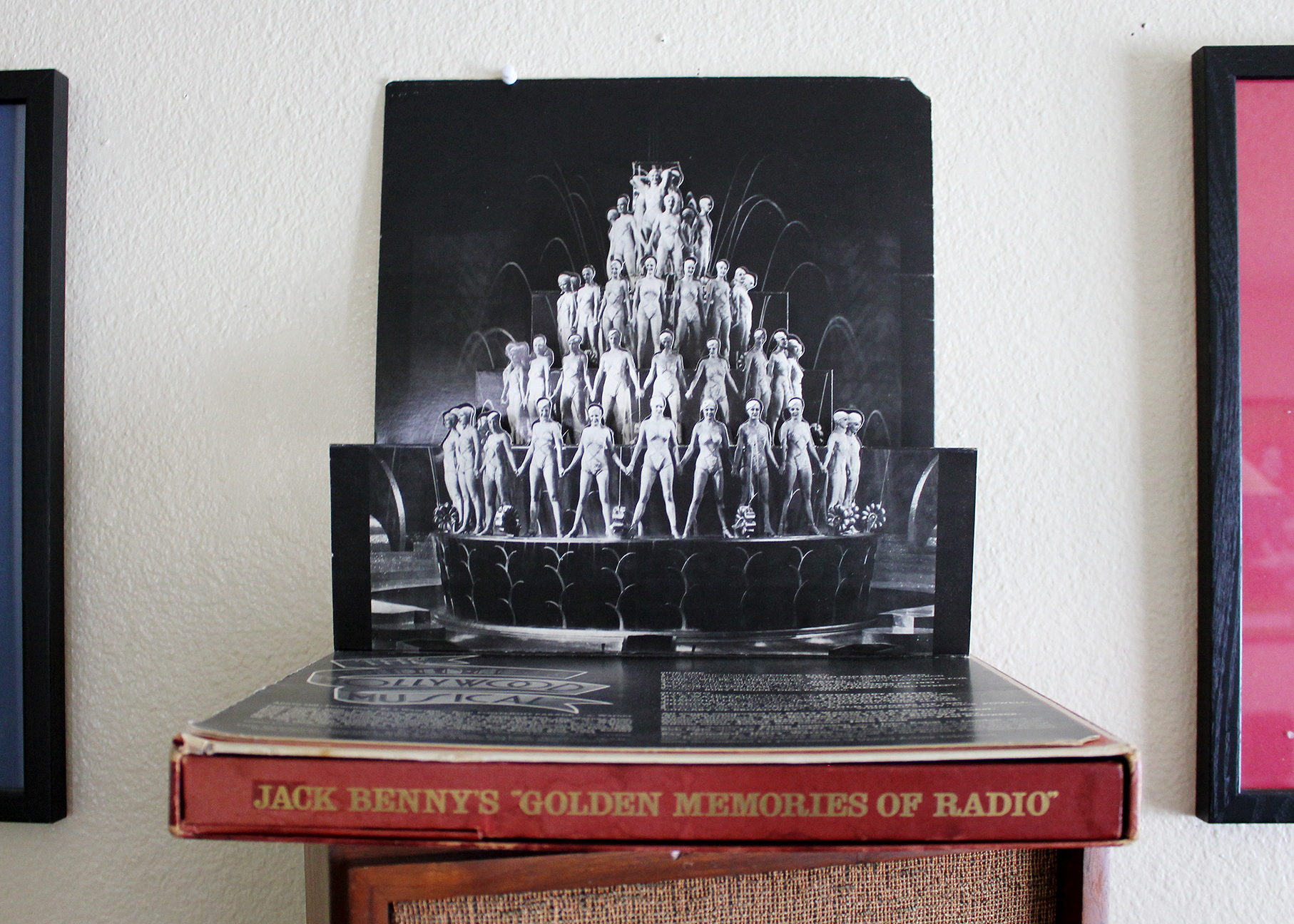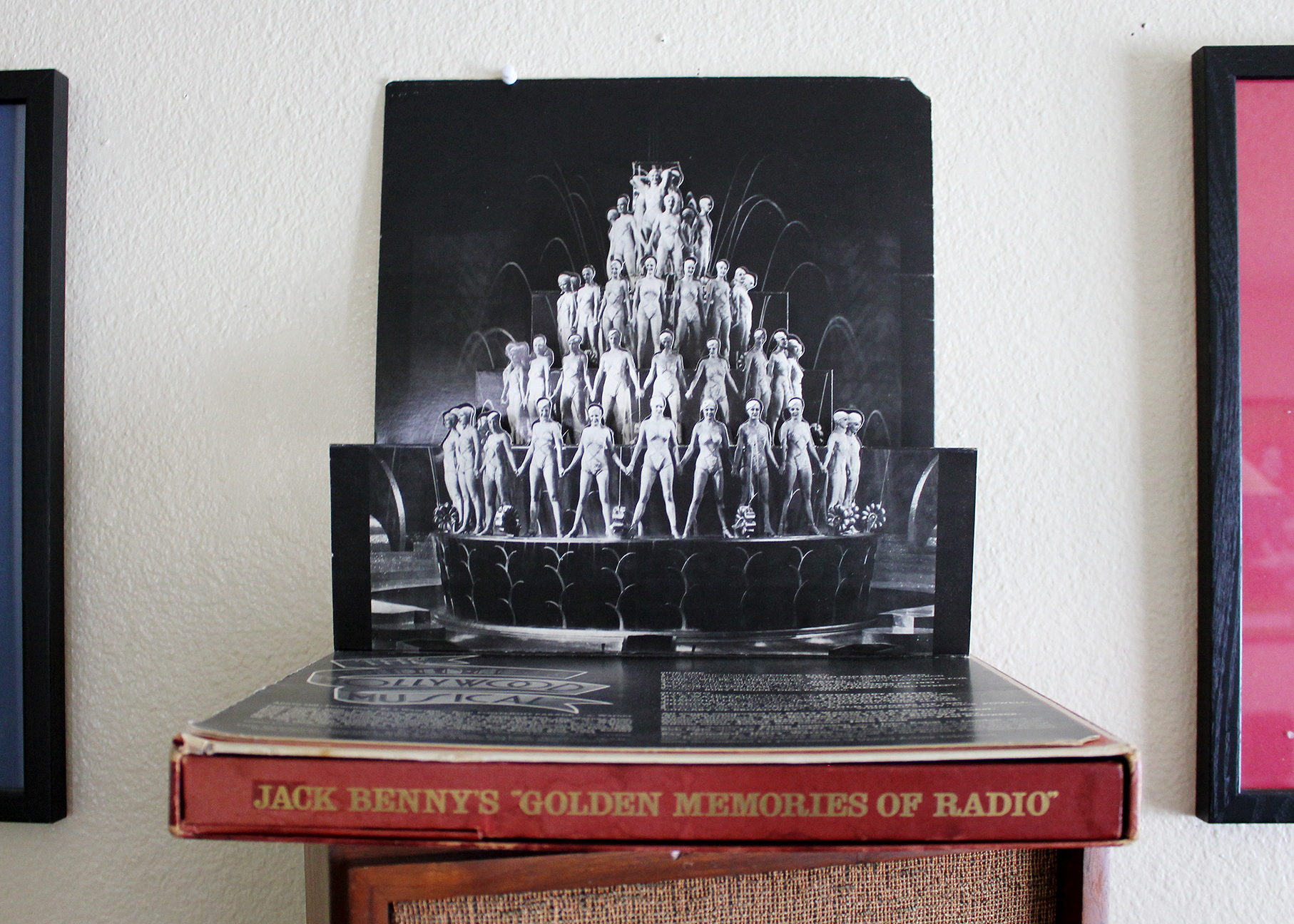 Jeff's Star Trek calendar from the late-1980s that replicates the dates for 2018, with his theater screenings indexed and color-coded; an art-deco framed Bob Hope portrait; Busby Berkeley pop-up insert from a soundtrack LP collection; complete November 2017 calendar of theatergoing.
RW: By what criteria do you judge a good theater versus a bad theater?
Jeff: Do they show movies on film, and is the crowd shitty? A theater that doesn't show film is pretty much irrelevant to me and I couldn't say if its good or bad because I'm not there. The only theater I've gone to recently that was digital was this theater down in Korea Town that has this crazy format called ScreenX. There's three screens, a front screen and two side screens with projectors on either side projecting to the other side. I'm into gimmicks like Cinerama so I went to that, but I don't really go anywhere to see digital. I'll go somewhere that shows film that is showing digital if they're playing something no one else will show. I also learned from the first year and half living here, that there's all these screenings I thought if I didn't go see it right then that I would never get another chance to see it but I now realize that I'll get another chance, almost everything will play again.
RW: When you go to a theater do you have a set routine? Does it vary by theater?
Jeff: Absolutely, very intuitive question. One of my friends from work went with me to the Egyptian last night and he was curious what my routine is too. I had never been there with him so he was curious about how I would be like there. I'm not set in my ways so much as I'm . . . no, I totally am set in my ways.
RW: What are some of your favorite theaters?
Jeff: My favorite movie palace is the Stanford Theatre in Palo Alto because they show film exclusively. It's beautifully restored, and they show really interesting things that are not for everyone; and they have a beautiful museum. They show shit that a very small group of old people and a tiny group of people our age will go to. And they don't care if they make money because they're a non-profit and they have infinite money. The New Beverly is like the rep-house version of that. No digital projectors, only film. The programmers show whatever they want and if people show up, that's cool. And if they don't, that's cool. They'll show movies that no one else will show and they'll show stuff that nobody goes to. Then they'll also show stuff that sells out in literally 10 seconds. Their culture is really grounded in creating a cinematic environment where people do not talk or use their phones. They are the most strong-willed and vocal about that of any theater, they fucking make sure you know. Except for perhaps the Alamo Drafthouse—but, the Alamo is ultimately more problematic in other ways because of the in-cinema food service.
RW: I was talking to a friend about the Alamo Drafthouse New Mission in San Francisco and we both agreed that the Alamo seems like a place we should really like, but we don't. And I can't really articulate all of the reasons why . . .
Jeff: I thought I'd hate it. The first time I went there I hated it. I saw Straight Outta Compton, and I couldn't see the food I was eating, and I didn't like it that you were put in a position that you may need to talk to your server. I left after 20 minutes or something like that. But I tried again and really liked it. They're committed to showing film for $5, about twice a week. They show interesting stuff and if you complain about someone talking, they will kick them out. I've seen it happen.
RW: Are there any movies or theatrical experiences that you have on a wishlist? Things that you are searching for, but have yet to find?
Jeff: There's only movies I haven't seen yet. Or movies that I haven't seen on film, or movies I haven't seen on nitrate. I was going to go see a movie with a friend that was playing at LACMA and it was a really big deal to me, Cabin in the Sky playing on film. Cabin in the Sky is the musical that was half directed by Busby Berkeley with an all-black cast, featuring Eddie "Rochester" Anderson, Lena Horne, and Louis Armstrong. But I was so angry at rude cinemagoers and festival programmers at the time that I just didn't go. There was a time period that I got really mad at cinema-going, because people were being assholes.
RW: Was it specifically the talky, yakky crowds?
Jeff: Yeah. I missed out on that screening because I was upset at cinema-going bullshit. So now I've got another screening to look forward to someday.
RW: I've gotten a lot better about noise over the years. There are so many different reasons why noise occurs and you make a judgment based on it—are they being disrespectful or are they just an old person with a crinkly bag? Different things bother me differently.
Jeff: An old person with a crinkly bag sucks too.
RW: That's the thing, it's just as annoying, but it doesn't make me as angry. Does that make sense?
Jeff: No, it totally makes sense. And I've learned a different kind of tolerance about the Drafthouse and other theaters. I now feel like someone kneeling and walking in front of me twice is worth dealing with to have someone bring me a coffee and a sandwich while I'm enjoying a film. It's awesome to be watching a movie and have someone bring you a six pack of Tecate in a bucket of ice with slices of lime. That's fucking amazing. That makes me happy. It's a great experience, so I'm willing to put up with a little bit of unconventional theater activity because it's a unique experience. The Alamo also employs a ton of people, way more than any other theater chain I am aware of.
RW: How do some theatres get these nitrate prints?
Jeff: I believe all the major archives have nitrate.
RW: It's something I'm unaware of as far as how it works.
Jeff: Any original print of a film before 1952 is a nitrate print, like in the case of The Fallen Idol, that Carol Reed movie I saw last night. That was a 70 year old print.
RW: Do they have to do a lot of work to prevent deterioration?
Jeff: Yes, but it's not all deterioration exactly, the prints shrink. Once they shrink to a certain degree, they are no longer able to project the print for safety reasons. A nitrate print's life span is very long, but you have to really care about its storage. The stuff that they are preserving generally stays in good shape. UCLA, the Academy, MOMA, they all have nitrate, because anything that's old enough is going to be nitrate because that's what everything was.
RW: What's the benefit of seeing a nitrate print versus typical film?
Jeff: It's where the term "silver screen" comes from. You can really see the silver on nitrate, it's amazing. It tends to give the film a degree of greyscale with really vibrant whites, blacks, and contrast in-between.
RW: What are some of the most memorable special guest screenings you've been to?
Jeff: I've had so many! The 90-minute masterclass with Guillermo del Toro at Fox, it was a pre-release screening for The Shape of Water. He led a discussion with every top member of the creative staff. Special effects supervisor, costuming, everybody. It was a huge panel and he stood at a podium with his laptop connected to the big screen and showed every different version of the creature's nose, and every element of production for a certain thing or the art that influenced a shot of the movie. It was super in-depth, and since it was an industry screening he started it off by saying, "We're all peers here, so if anytime you have a question just shout it out, I want to be able to answer questions from my peers. Let's be artists and talk about this art." It was very casual but very in depth, and just totally fascinating! Guillermo del Toro is the most eloquent speaker. That's the one that springs to mind . . . Being three feet away from Jackie Chan was really cool. Jackie Chan is a really big deal and that kind of stuff doesn't happen very often; or Nicolas Cage, being three feet from Nicolas Cage and asking him a question, that's kind of fun.
RW: It seems like you do watch primarily American, or at least English-language movies. Is there a particular reason for that? Do you shy away from foreign?
Jeff: I like the escapism of the '30s, I like the Hollywood sensibility. But a lot of the foreign stuff doesn't play on film—one of my favorite movies is Contempt, the Godard movie. The Aero is currently showing a lot of Japanese movies, Samurai movies. And a friend who's as much if not more of a cinephile than me had to choose between nitrate Fallen Idol on 35mm nitrate, or the 35mm safety print of Yojimbo, and he chose Yojimbo. And that's cool. That's a good problem to have. As for me, I like The Magnificent Seven more than I like Seven Samurai. I find it more interesting. Comparatively, I find Seven Samurai boring, but that doesn't mean it's not awesome. It's just not what I'm into. So, yeah, there's always exceptions. It's not like I only like one thing. I'll see whatever. With the Cinefamily shutting down and the Beverly closed temporarily, it's been an emotional loss, like a breakup, or somebody dying. It's a huge change to have somewhere you went to three nights a week for two or six hours at a time just disappear. I went to about 150 movies at the New Beverly last year. Not having that option and not seeing all the people I see there impacted me more than just a channel shutting down. I feel like the Cinematheque's two theaters have really upped their game to offer a bigger and more diverse group of films. That really is filling a huge hole in what has become not only my main interest, but also my personal life since so many of my friends are in this world too.
RW: Watching the amount of movies that you do, how does it impact the rest of your life?
Jeff: It can be exhausting and expensive. You're always paying attention, and it's not cheap to get transportation across Los Angeles. I take Lyft and Uber everywhere because I can't drive at night, and I can afford to not take the bus for the first time in my life, and so I'm not. It costs me too much to go to the Hammer museum or the Aero Theatre on the weekends. It's much cheaper when I come from work, so I'll generally just go during the week.
RW: Do you schedule nights off usually?
Jeff: When I can. Recently I've been going to a lot less because the Cinefamily's closed and the New Beverly is closed. When I counted how many movies I watched last year I didn't count movies I watched at home because it just didn't seem to matter to me. It doesn't mean anything.
RW: I was really thinking about the idea of aging and watching movies and watching people that are older who go. Is there anything about it that you find depressing?
Jeff: No, it's awesome. There's this guy Freddy, he's in his 80s. He used to be friends with Orson Welles and was Orson's driver towards the end of his life. He also used to work at MGM. He's a regular at all the theaters, but mostly at the New Beverly. He'd go pretty much five nights a week. He has a lot of knowledge. I like old people more than young people. Young people often have to prove themselves to me but old people don't: if you've been around, you've dealt with shit and I'm down to listen to you.
RW: How is your wall calendar organized?
Jeff: Each color is its own theater: all the red is New Beverly, if there's something in gray it's a short. Most of the time I will list who the star of the short is, like Bugs Bunny or Joe McDoakes. Green is the Aero theater in Santa Monica. Blue is the Cinefamily. Black is somewhere else, if it's black I will state the location, like the Directors Guild Theater, I get to go to a lot of theaters that people can't go to unless you're invited, which is nice because they are the fanciest ones.
RW: If they are crossed out what does that mean?
Jeff: It means I left during the movie. If there's a star that just means it's really good, that means I liked the screening. The first time I added a sad face was Valerie and Her Week of Wonders. That is a rare movie and I felt like it was not appropriate for me to leave early, I kept waiting for it not to be gross and shitty. But everything else, if I'm over it after one minute to one hour I'll just walk out. I've seen too many movies to commit my time to something I don't like. But yeah with Valerie, I hated the movie. It seemed like the intention was to be exploitative in a way that I was not comfortable with. And it was really interesting that the show had a Cinefamily audience and the Cinefamily had far more women in the audience than any other theater.
RW: Why do you see so many movies? Why do you go to the theater as often as you do?
Jeff: Because I can. I have the time, and the money, and the inclination, and there's more opportunities here than most anywhere else. And film is alive and it's likely to die. If I don't see it now, then I might never see it. It's fun. I think I pay more attention than if I was sitting at home. But with digital, I can always watch it at home on a bluray. It's going to look the same. Or whatever the next thing is after bluray—streaming or whatever. That's why the home thing doesn't matter to me, because I'd be looking at my phone or eating pizza or stopping the movie to get a mineral water or whatever. And it gives me one less thing to think about as far as, "What do I want to watch next?" Because I just watch what's playing and I pick from that stuff someone else programmed and if there is shit I don't care about I just don't go see. If there's something I don't know about, I'll check it out, and if there's something I've seen a bunch of times I don't care, I'll still go. It's fun every time.